I use my VRS 2.4.2.29243 running on Linux Debian 9 at RPi.
Recently I did find that reports from database caould not be retrived due to the reason "database disk image is malformed".
I've stopped the DB writer plugin, copied sqb-file to the windos PC and then tried to repair it with SQLiteFileRepair utility, but unsuccessfully.
I've put the screenshots of failed attempt with some report from the utility.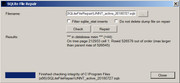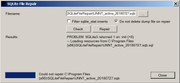 Need to say, that process of repair seemes to be running well itself, as the sql file is creating first and it looks as the proper one.
Then, journal and new sqb files are appear on disk and that sqb file is filling quickly with the new data. But process eventually stops at some point and removes all new files, along the giving an error message in the utility's window.
Could someone help me to fix this problem, as I'm not experienced well in sql?
P.S. In fact, I can't load the images into attachment, getting the status "ERROR
Error parsing server response." for each file.